Amber Terway, Barre, VT – Nov. 2019 – Earlier this year, Delta Airlines eliminated their $150 additional fee for bicycles, as well as all oversized sports gear. My husband, Tim, and I took this as a sign to go on our long overdue honeymoon. So we packed up our gravel bikes (with Darren's help!), flew to Italy and went on several gravel bicycling adventures.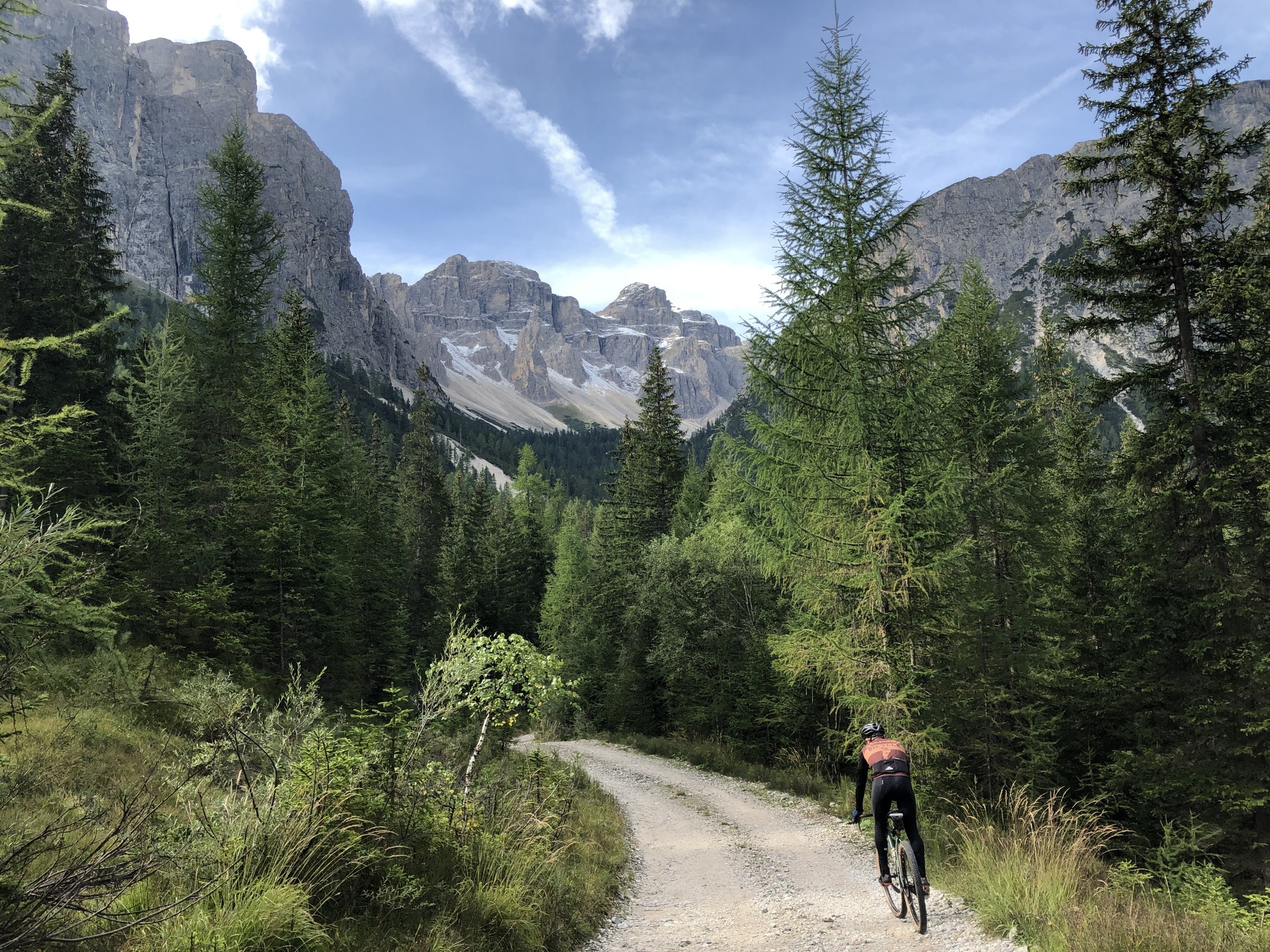 Gravel adventure biking in the Dolomites.
Cycling is an engaging way to explore a place. You cover greater distances in a shorter time than hiking, while still maintaining the joys that come with slowing down. We could take time to chat with shop owners, ask other cyclists for route recommendations or just take in the views. This also left plenty of opportunity to visit local pizza shops and bakeries!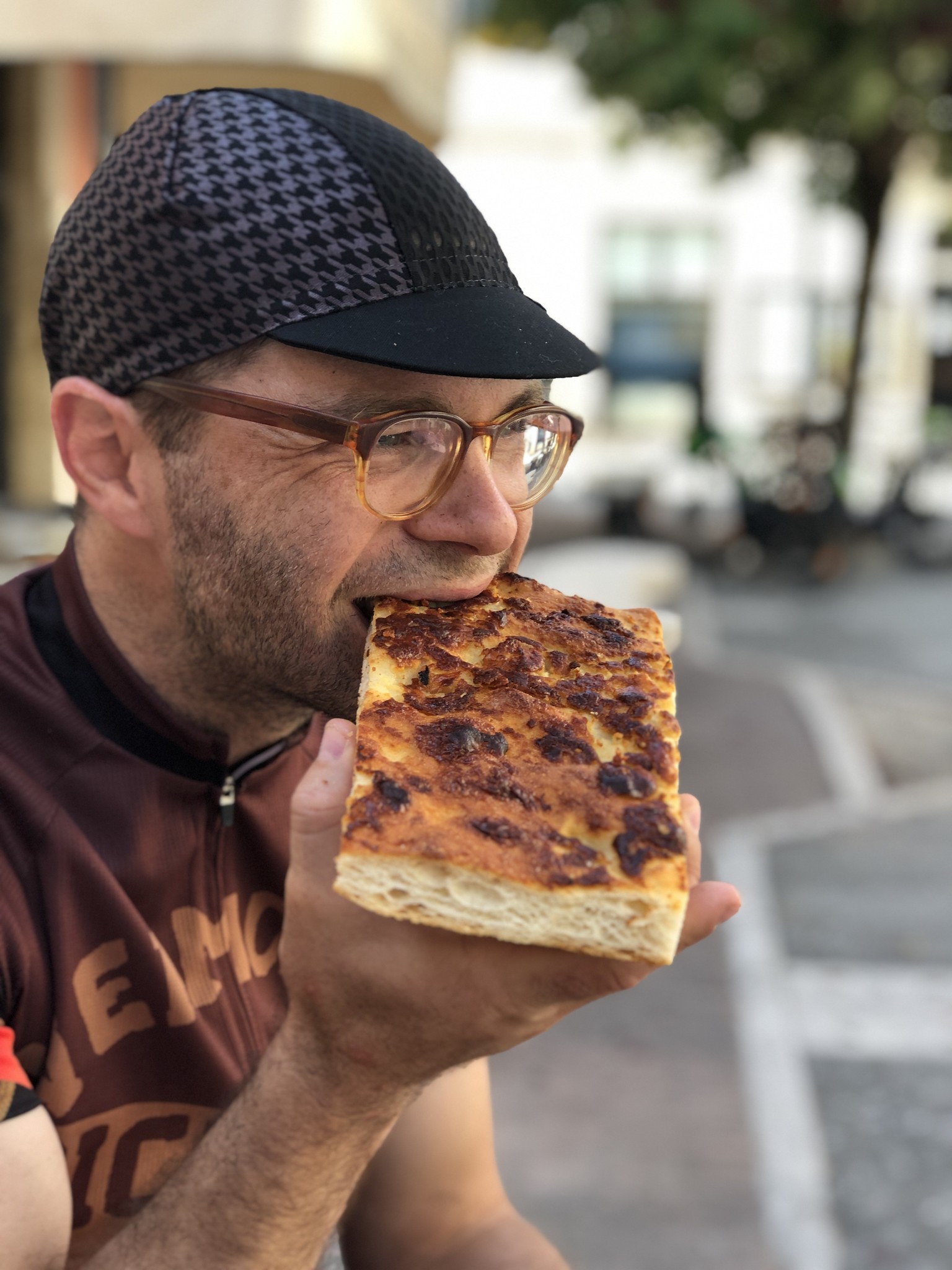 Tim enjoying a mid-ride refuel of cheesy focaccia.
We split up our trip with a mixture of city exploring (sans bicycles), hiking and gravel cycling. Though our trip took us all over Northern Italy, we concentrated our gravel cycling adventures in the Dolomites around Alta Badia in Tuscany near Siena. We kept overall trip costs to a minimum – cashing in airline miles to cover flight and rental car costs, and staying in small AirBnBs or booking packages that offered deals for cyclists. With the decreased cost of flying with bicycles, we opted to bring our own bicycles rather than rent them during the trip. I brought my Salsa Cutthroat and Tim brought his Kona Sutra LTD. Knowing that we wanted to go on all-day adventures, we brought saddle bags, snackhole stem bags, a top tube bag, and water bottles, in addition to our other cycling gear and kits. The bags allowed us to bring snacks, rain/sun/wind protection and tools with us on rides – important items as our trip was in September and the weather would be cold in the mountains and still hot in Tuscany. We also opted to get an international SIM card for one of our phones to enable maps and navigation, as well as limited phone calls and texting in case of emergencies.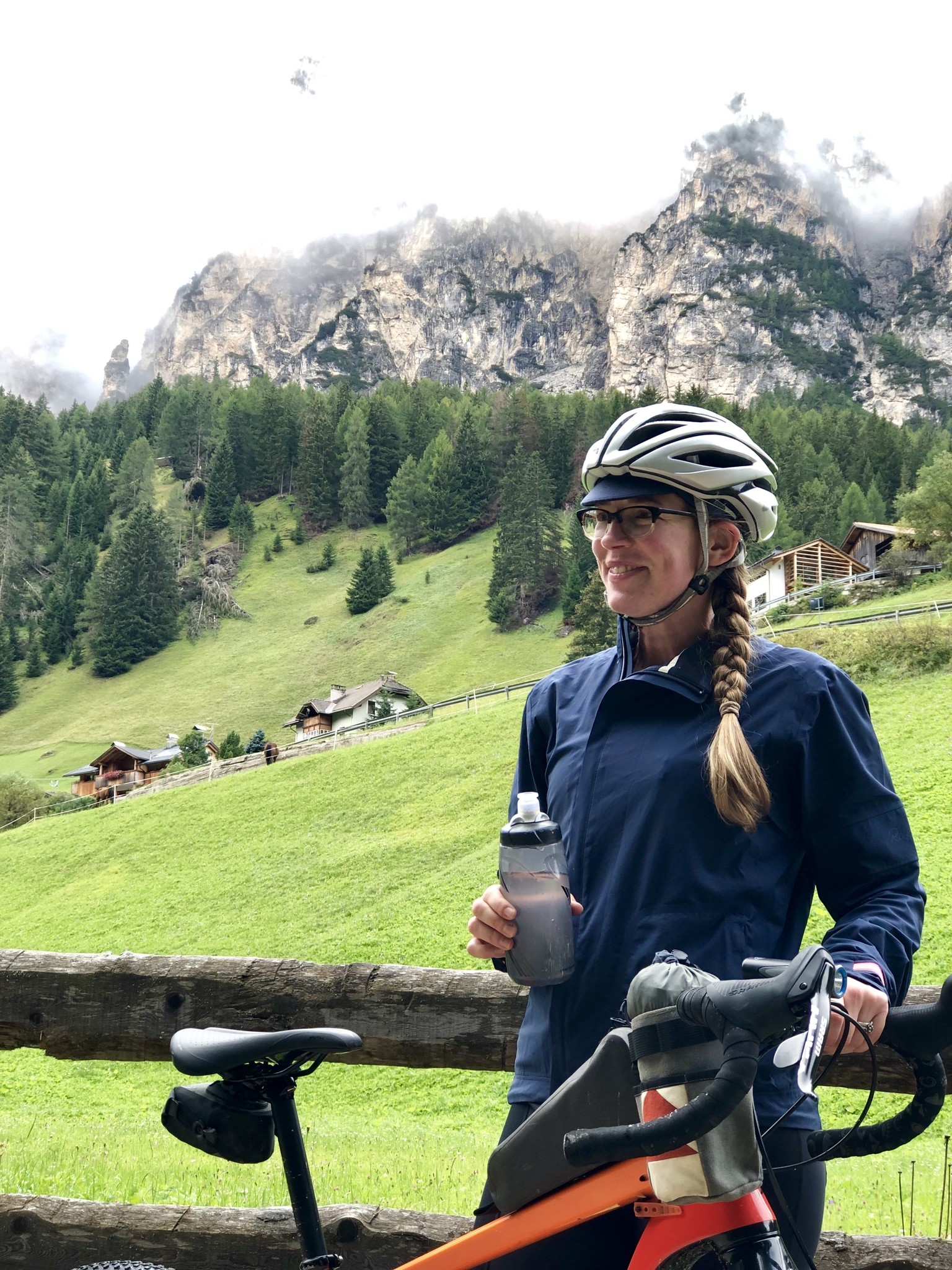 Amber's Salsa Cutthroat ready for adventure with saddle, top tube and handlebar bag.
In Badia, we booked a five-night gravel package through Hotel Melodia del Bosco. They have a bicycle garage complete with secure storage and tools where you can assemble, clean and store your bicycle during your stay. Our package included half-board (healthy and hearty breakfasts and a full five-course dinner!), snack-packs with energy bars and drinks, GPS route suggestions, nightly laundry service for our cycling gear and access to the hotel spa. They also provide day-of-departure gear storage and showers so you can get in as much riding as possible!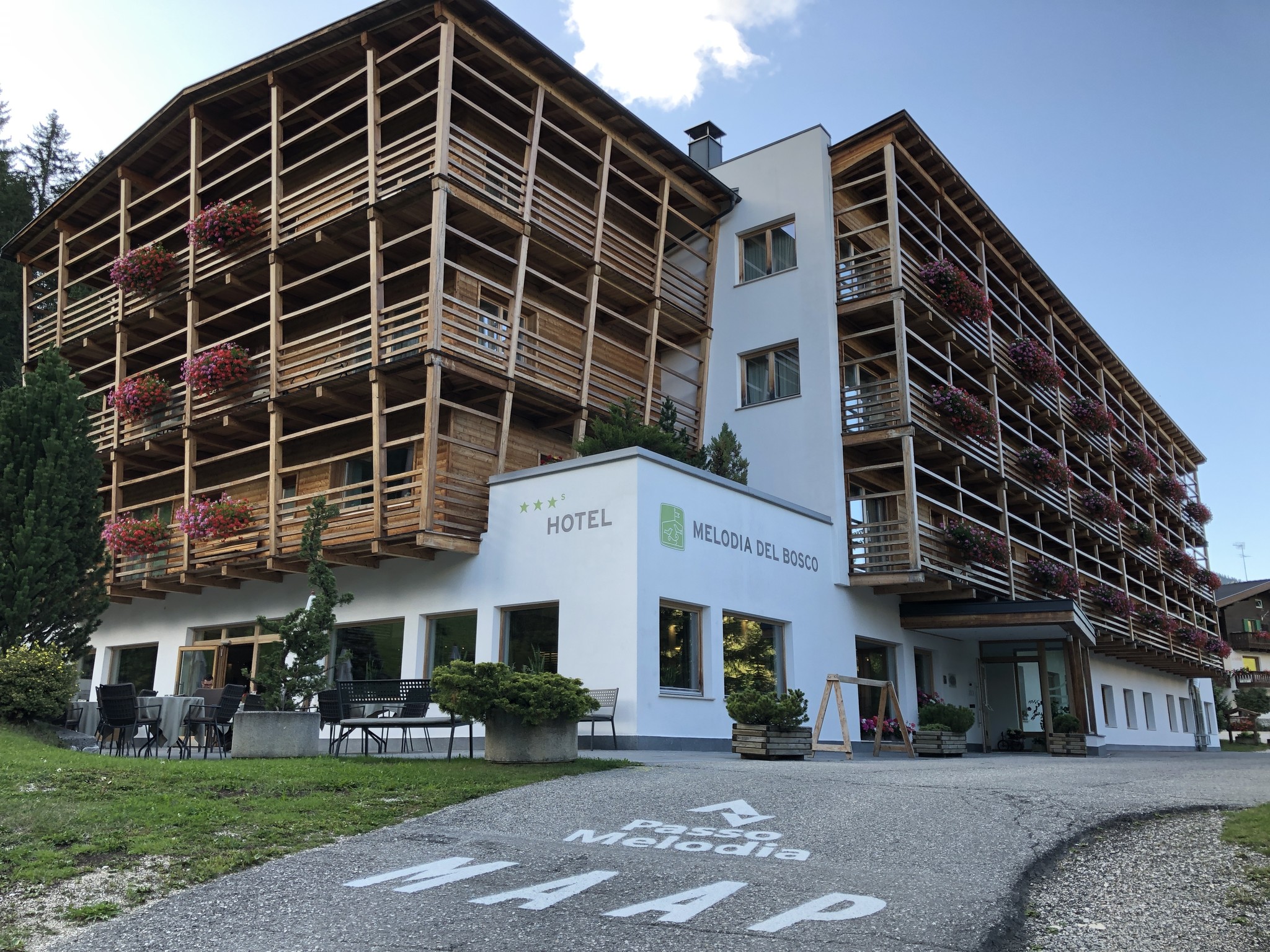 Hotel Melodia del Bosco in Alta Badia, Italy.
Klaus Irsara, the owner, is an accomplished cyclist and an excellent resource for guests. He took the time to chat with us each day and designed routes that matched our riding abilities and interests. We meet in the middle with gravel riding – Tim is a mountain biker at heart and I'm an adventurous roadie. Klaus designed routes for us that took us into the heart of the Dolomites via challenging gravel roads, while also including a few sections of trail and the most iconic road climbs in the area. We opted to adventure without a guide, but Klaus also offers guided rides, as well as packages for road and mountain cyclists.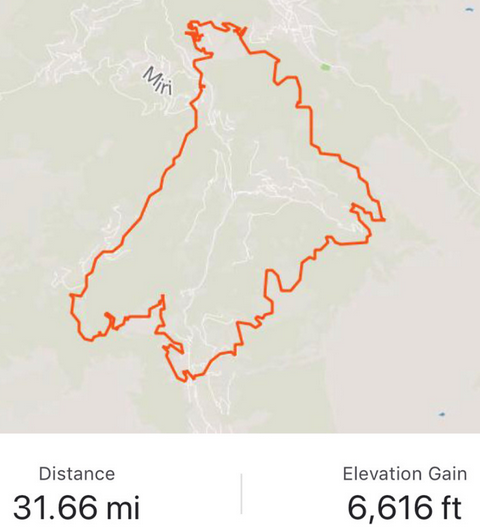 Example of the distance/elevation gain on one of our rides.
Best of all, most of the gravel routes have clear directional signage so you can easily check and adjust routes as you go.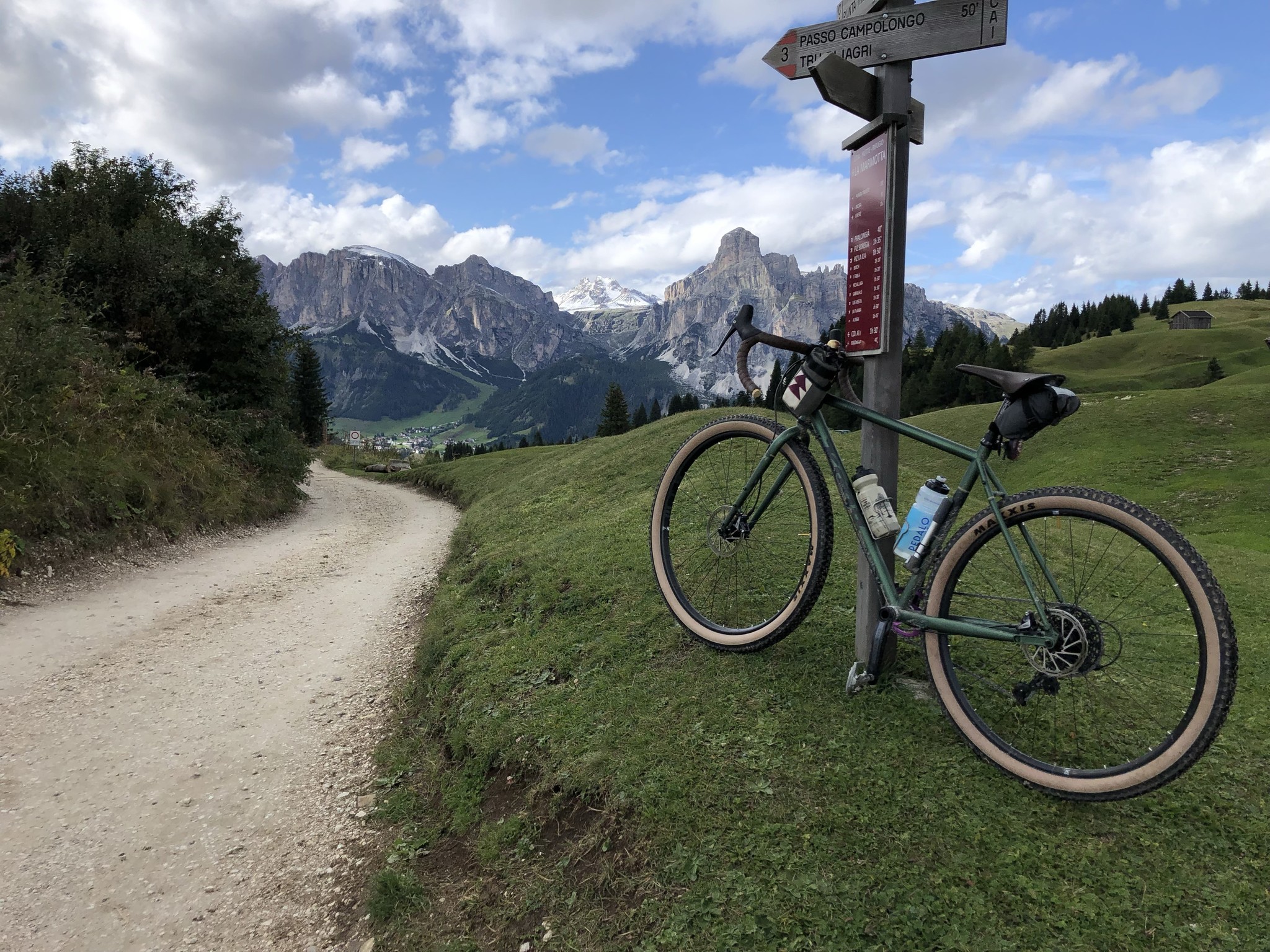 Gravel road signage.
Gravel adventure cycling is still gaining ground in Italy. The Dolomites are full of steep, challenging and absolutely incredible gravel roads. We rarely saw other bicyclists – and when we did, they were riding e-bikes. Our gravel bicycles were an anomaly, which led to many great conversations when we stopped for snacks or coffee. At one point Tim's bike needed a quick repair. We stopped by a local bike shop for help and the shop owner had never encountered bikes like ours. When we explained where we were riding, he expressed genuine disbelief that we weren't using e-bikes. Hikers also weren't used to encountering bicyclists on the steeper roads. We recommend bringing a bell to warn them or practice yelling "Bici!". Respectful riding etiquette will be important as the gravel culture continues to grow in the area.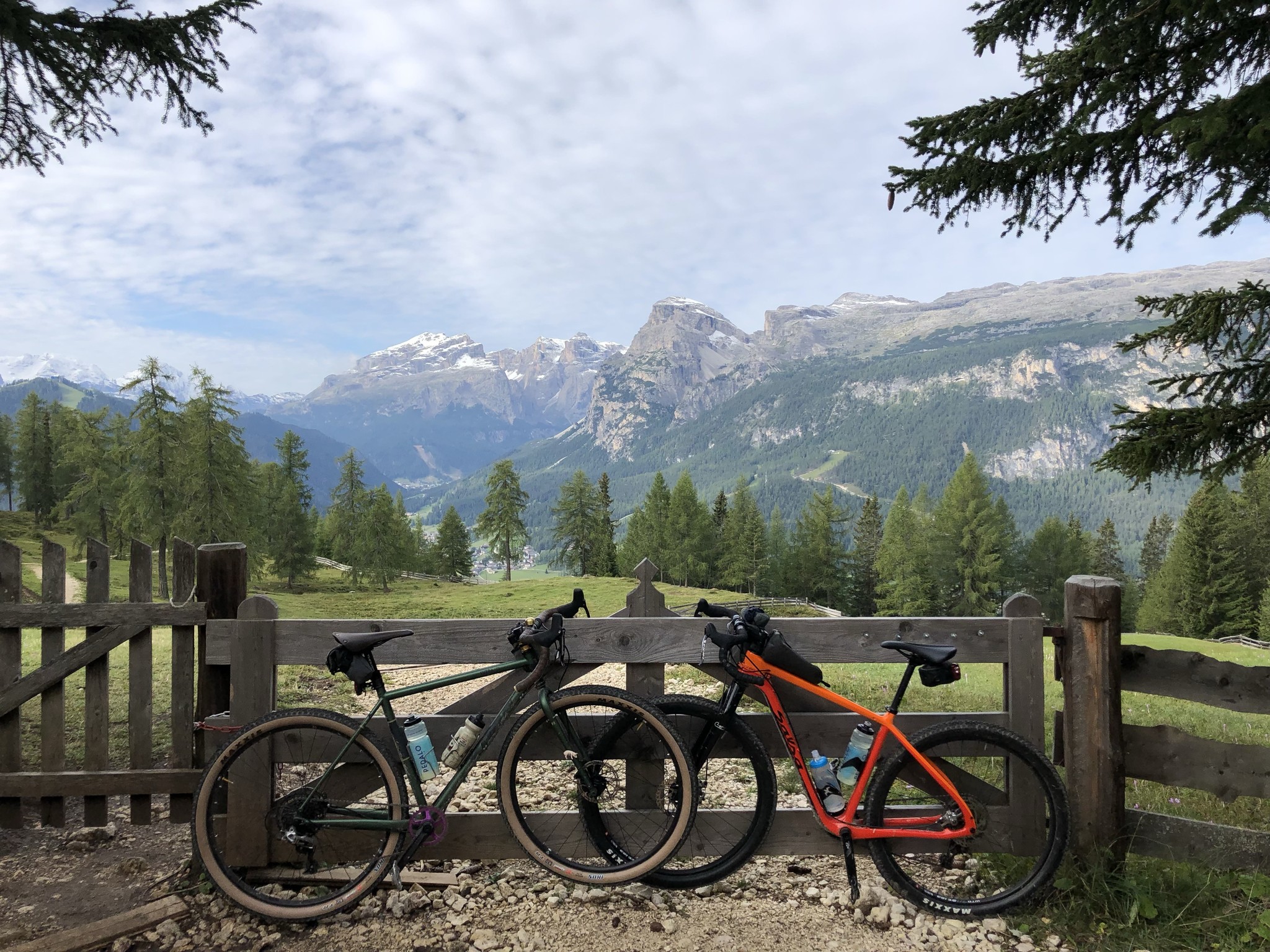 Typical view while gravel cycling in the Dolomites.
Living in Vermont provided great training, but we still frequently found ourselves outmatched by steep grades and 10+ mi climbs. But we weren't there to dominate – we were there to challenge ourselves and to explore. We welcomed any breaks as opportunities to enjoy the scenery (and catch our breath).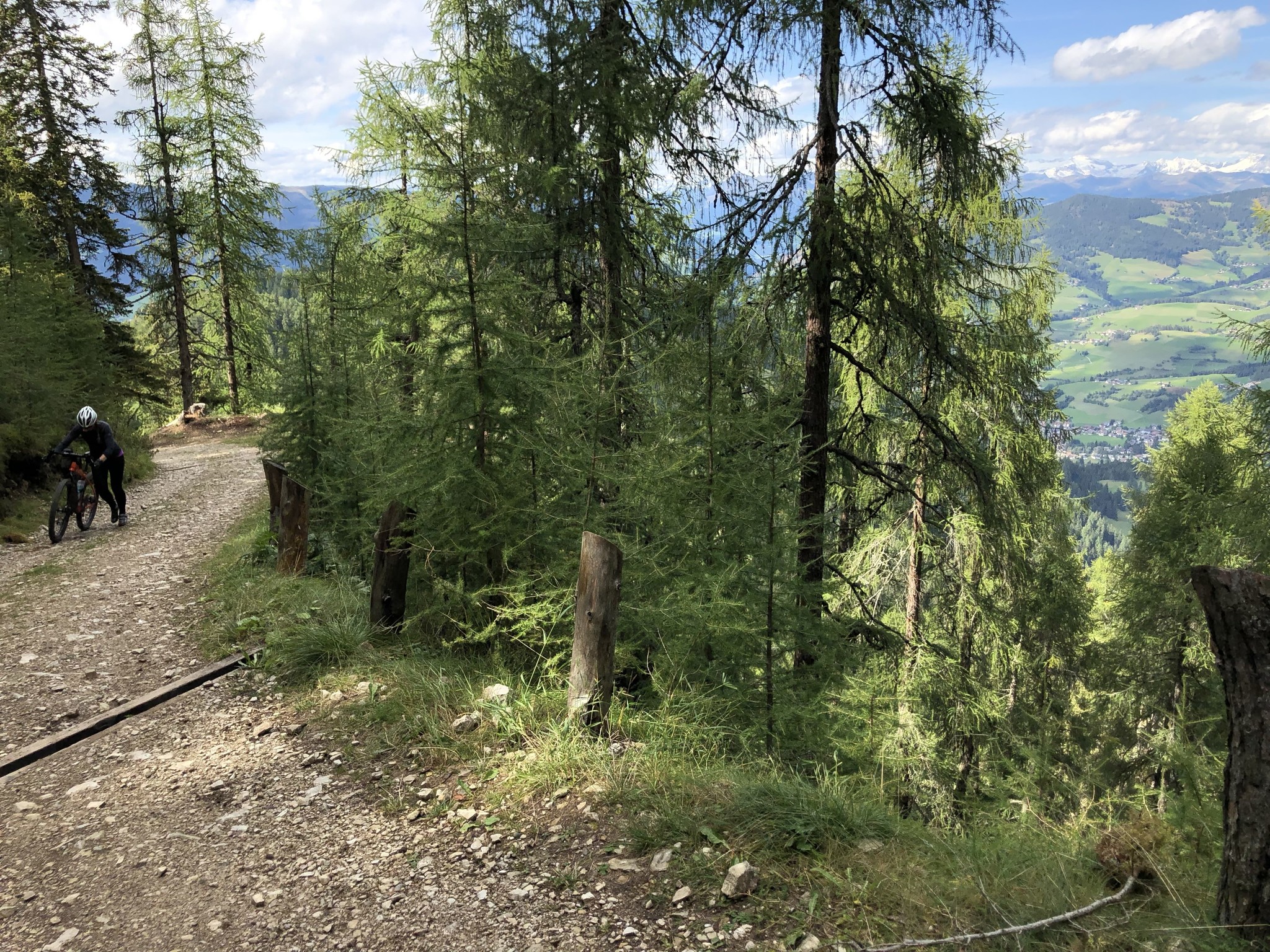 Amber walking a section of a particularly grueling hill.
Plus, the climbing was always worth it – not only would there eventually be an exhilarating descent, but you can stop for a snack or coffee at any number of Rifugios. Rifugios are mountain lodges or huts that serve up warm and hearty Ladin specialties like tagliatelle with venison ragu or apple dumplings.
| | |
| --- | --- |
| | |
| Rifugio Gardencia and a mid-ride apple dumpling and coffee at a different | rifugio. |
In Tuscany, we stayed at an AirBnB in Vico d'Arbia just outside of Siena. Our AirBnB was along the L'Eroica route so there was a pre-planned route that we could deviate from as desired.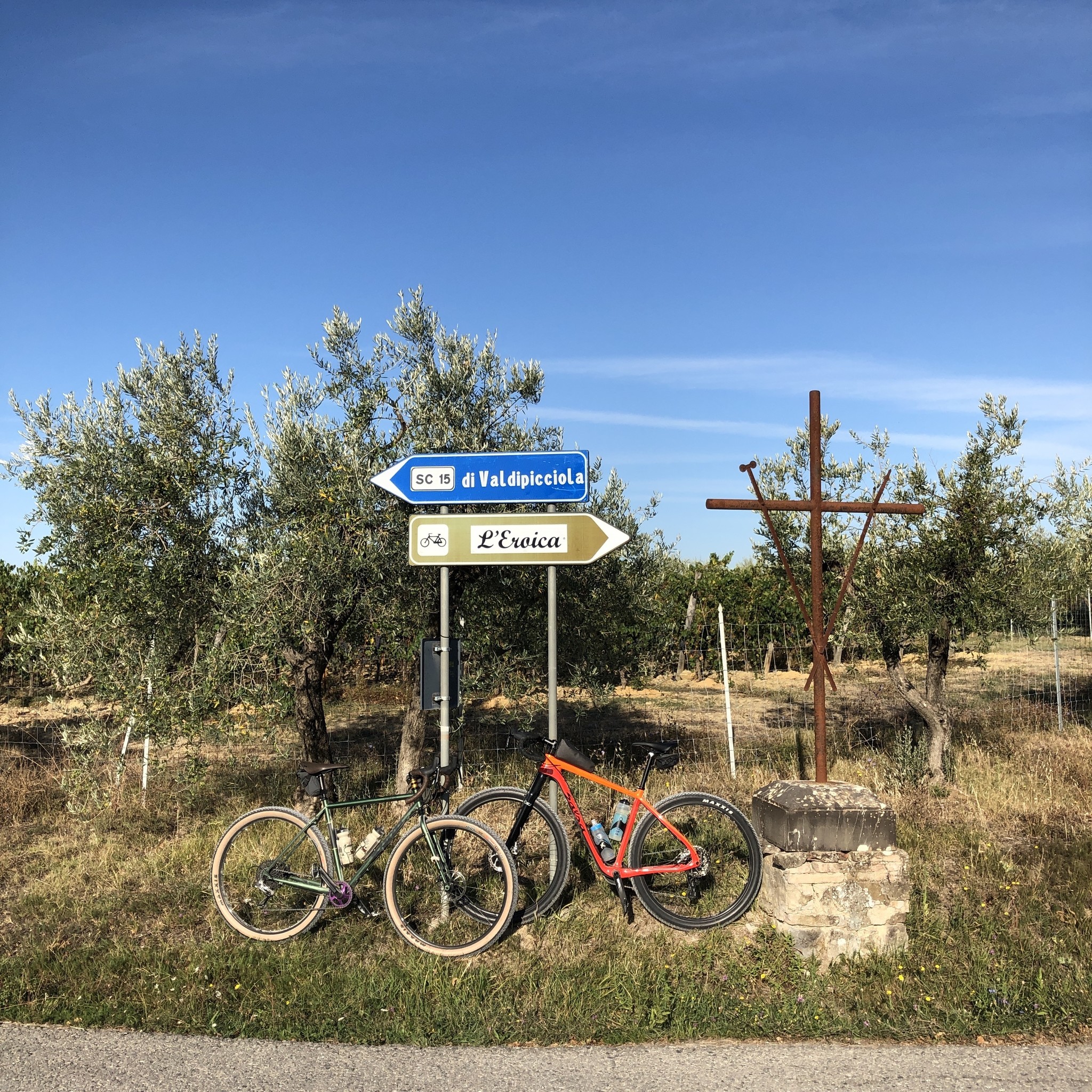 L'Eroica signage in Tuscany.
And there are plenty of reasons to deviate – the region is full of wineries and vineyards, as well as small towns where you can refuel with a quick espresso or hang out in the piazza while sampling the fresh, local food. Most piazzas, or public squares, have a public water source where you can refill your water bottles too!
| | |
| --- | --- |
| | |
| Tim refilling his waterbottle at a public fountain and | Amber riding into a small village in search of a |
| mid-day coffee. | |
The gravel roads in Tuscany were very different than what we experienced in the Dolomites. The hills were rolling but constant, and the views were of vineyard estates and castles. It was much dryer, and the crushed, white gravel left a fine powder on our bicycles – and on us!
| | |
| --- | --- |
| | |
| "White road" cycling around Siena. | |
All in all, traveling internationally with bicycles was easier than we anticipated. Darren's advice for packing our bicycles meant we arrived with all of our gear intact and ready to roll. In each place, people were excited to chat and check out our gravel bikes, and were patient with us as we practiced our Italian. If you're interested in planning a trip, let us know – we're happy to share maps, packing lists and more!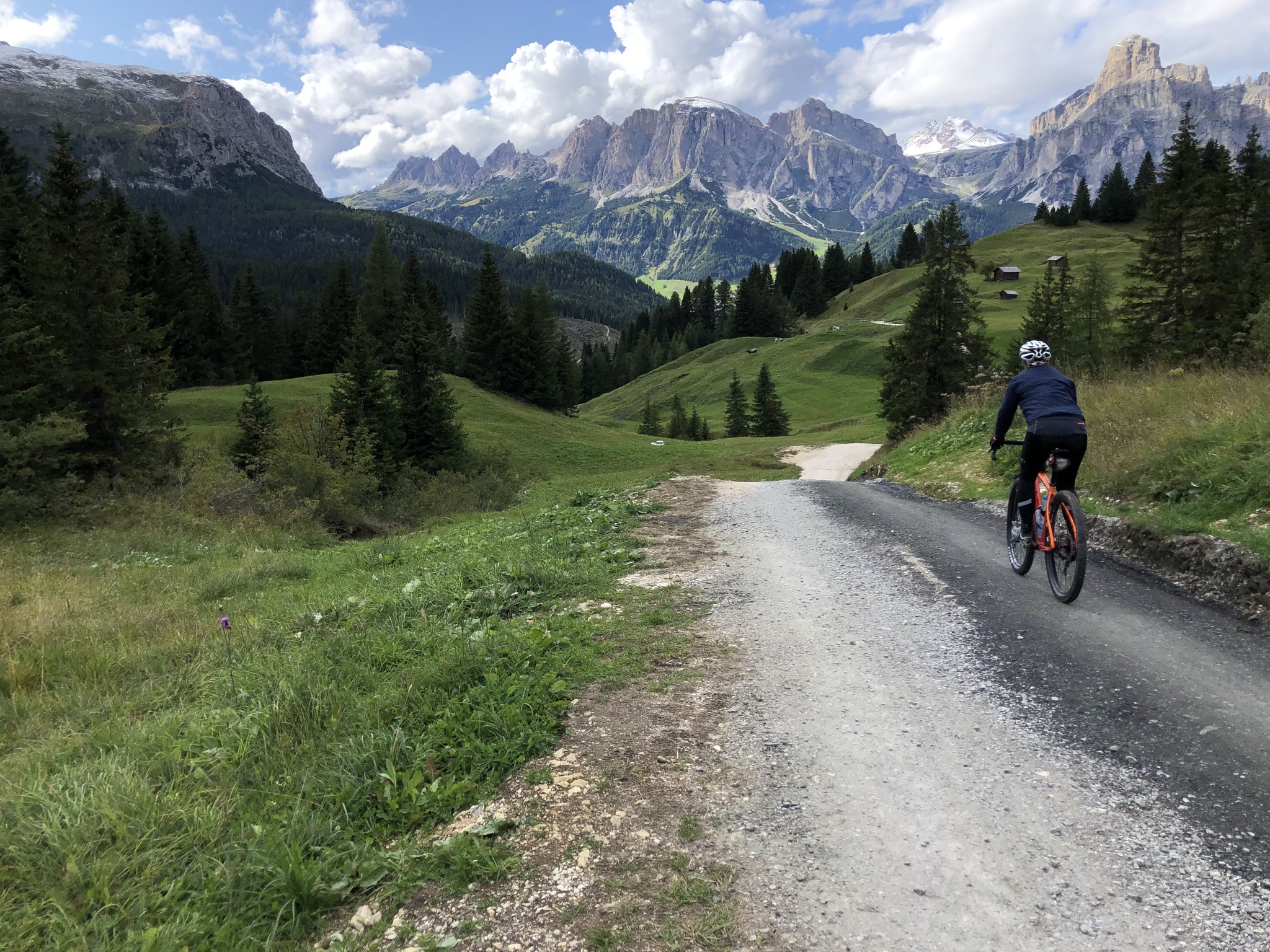 Cycling in Northern Italy.